New: Limited time lowered price! It's the same great, court approved course you've always loved, but now you can get it for a discounted price! Because we are proud to offer the CA traffic school course that thousands in California take each month, we can offer our course at a low price and still cover our costs!
**When you sign up, enjoy an additional $3.00 off the course price quoted by out Traffic School course provider!

And on top of our lowest price traffic school,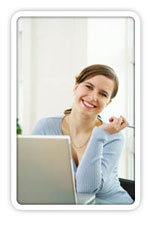 you still get the best, highest quality online traffic school out there:
California Approved Traffic School for almost every California County
Completely online course you can take from home
Special offer: Traffic School as low as $16.95 for every CA county we offer Traffic School in
Take comfort in our 100% Money Back Guarantee
Get everything California Traffic School has to offer with DriversEd-CA.com
Want to find out why our California Traffic Ticket course is already considered the best on-line trafficschool course in California? Take a look:
Completely online which means you don't have to leave home. Take our traffic ticket school from home, the office, school, or even a coffee shop. As long as you answer your verification questions correctly, you'll never have to leave the comfort of your home to finish traffic school in California.
Get court certificates delivered on time and to the right location. Some California courts require your completion certificate to be delivered directly to them. Other CA courts want the certificate of completion delivered straight to you. Don't worry - we'll take care of making sure your certificate gets delivered to the correct place every time!
Need help or have a traffic school question. We have live customer support staff available to help you answer questions before, during, or after your traffic school course. It's just one of the many ways we keep our customers happy in California.
If you're up against a tight traffic school deadline and your ticket is due soon, you can use one of our many rush delivery options to ensure that you beat the deadline you need to make. We choose FedEx so you don't have to stress about missing your due date. Not in a hurry? Not a problem, out standard certificate delivery is free of charge.
In the rare case you are not totally satisfied with our online traffic school program in CA, we offer a 100% money back guarantee. That means that if you don't finish our course, you can opt to have your money back at any time. But we doubt that will happen - we're California's leading traffic school provider for a reason!
Our course is easy, fast, educational and made for anyone! Whether you're a computer nerd or computer illiterate, you'll find our course is just right for you! It's tailored to teach the traffic school concepts in a timely manner that anyone can understand. Our easy to use lessons ensure that there are no glitches along the way!
What would you say if we gave you all that as low as $16.95? We hoped you'd say that!