Our on-line CA Drivers Ed class gives La Canada high school students all they need to pass the CA permit test on the first try! And after you have earned your drivers permit, you're prepared to start in car lessons with a DMV licensed teacher from Drivers Ed Direct, your areas preferred driving school. Enjoy all of the benefits our driving school in La Canada has to offer:
Computer based Drivers Education in La Canada Flintridge, La Crescenta, and Montrose for less than $30
Access to over 200 free online practice DMV permit tests that will help you pass at the Glendale DMV
Try the online course for free with our no obligation free trial (select 'pay later')
CA DMV Approved Completion Certificate included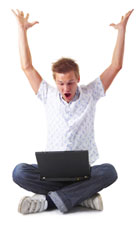 La Canada Drivers Education and Driving Lessons with DriversEd-CA.com
Here's a few reasons our driving school is becoming the favorite drivers ed provider for La Canada high school students and La Cresenta students alike:
Our driving instructors are top quality. Students like how approachable they are and parents appreciate how professional and well-trained they are.
Get the La Canada driving school that everyone counts on for up-to-date, safety equipped training vehicles; and choose a between a hybrid powered car or SUV.
Sign up for your La Crescenta driving school course below and get an automatic promotional discount added to your order - you get the best driving school at a great low price!
Schedule our driving school DMV test prep service for the day of your test. We will pick you up from home or from any La Canada school and take you to the Glendale DMV!